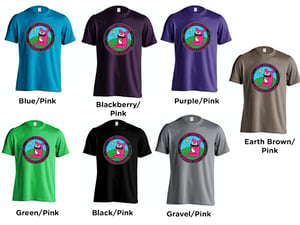 $

17.20 - On Sale
While I love my designs in the more tactical FDE hues, I tend to skew in favor of more colorful, civilian-lookin' versions for my own use. With every batch, I throw in a few crew shirts in funky colors, and this time around I'm testing the waters with some of the ones I like.
Screened in oregon, these Gildan shirts are another great addition to the TNP collection. Some colors and styles may vary between material type, with some being ring-spun cotton, others being heavy duty, etc. This time around, screening has been done with a little more ventilation to allow for more breathability while wearing them in hot climates.
These colorations are currently limited, but depending on demand may be opened for preorder later on. Unfortunately, the software here can't allow for varied combos and inventory tracking, so I have to manually adjust these as stock permits. Sizing is only the most popular three (M/L/XL) since those are the crew sizes and I don't know if anyone will like them. In the past, the more colorful shirts have warmed my shelves a lot longer, but I like having the option.
Two packs include 2 of the same size, with one being the brown earth (standard) version of the shirt along with the limited color variant.